Stu Jackson – Creator of Car Show Software
I have been into electronics and programming for the last 48 years. My start into programming was back in the BBS days, long before WWW came along. I retired from Motorola in 2010 and have been enjoying my free time.
About 16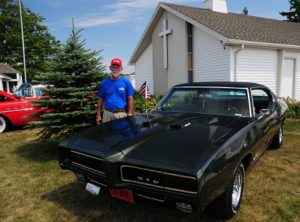 years ago, I got the car bug, purchased a 69 GTO and started hitting a few shows. My few shows turned into a Summer weekend project. It was then that I noticed how ballots were counted! WOW, multiple folks with pencils, chalk boards, papers, and lots of conversation! How hard could it be to make a program capable of counting votes. The monster was born. For 6 years I have been using "Car Show Software" with 100% perfect results. As time went on, I added more and more to it. I believe the adventure is over, but would be happy to listen to any feedback you might have that could enhance it.The hardest part of using the program is getting car show administrators to move away from there old ways and give it a try. One show is all it takes!
I support this effort myself, always free to email or call me direct with any questions, problems, or hey, maybe just to say how good life is!
♦517.675.6908